Top style influencers of the Millennial generation and 2015 A-Z
Greetings to everyone around the world tuned in to this powerful moment in history today. It's a pleasure to meet you all on this fabulous evening. We're going to be do things slightly differently tonight. So take a seat, grab a tall glass of Merlot or Pinot Grigio and read carefully. Tonight is the night of the Jumpman, as I will be presenting the TOP 23 style influencers of the millenial generation and 2015. Here's the best part (for all of the hypebeast out there) it's from A-Z. I know, I know you wanted the big countdown, but I promise you will enjoy every second of this. Now lets get started. Scroll down.
Aleali May, 22, Blogger / Stylist
Aleali May Our first guest to start the day off is the infamous Aleali May. Her sales experience/ fashion background is deeply rooted extending back to Louis Vuitton and RSVP Gallery. She is also a image consultant and has collaborated with several brands and celebrities such as Nike, Adidas, Audi and Kendrick Lamar. If the odds are correct, you might spot her in Alexander Wang, Celine and Bape all in one sentence. Or you may see her at fashion week, or backstage at your favorite concert on behalf of her lifestyle fashion blog www.alealimay.com
Asap Rocky, 27, Rap Artist
Well well well. The Rick-Raf Simons bandit is back in attendance. Rocky has proven to society that he is the Jean Michel Basquiat of fashion. Aside from being an outstanding hip hop artist, he has gracefully slayed campaigns from Alexander Wang, Dior, GQ, Vogue, Hypebeast and any other outlet involving clothing. He has stated that fashion is more of an art form and expression to him. If anyone needs clarity put "Fashion Killa" on repeat 33 times.
Brookelyn Styles, 28, Stylist / Creative Director
It's ideal to bow your head when one of Brooklyn's finest steps into the room. This silent assassin has been creatively flooding the streets of Los Angeles for quite some time, and does not plan on stopping anytime soon. Her deck of cards has clients such as Nicki Minaj, Roccstar, Rich Homie Quan, ASAP Rocky and many more. Remember how beautiful the Migos "Versace" was? Crown her. What about the creative direction behind the brand Young and Reckless? Crown her. Let's not forget about her vintage essentials. But most importantly, no one in human existence can wear Nike socks, high heels and a long braid better than this woman can.
Bryan Boy, 34, Blogger / Stylist
Theres three word to describe this guy: Eclectic fearless and limitless. Bryan Boy may possibly go down in history as one of the best dressed men of all time. There's no grey area in his tactics of mixing womenswear with menswear. Its not unknown to see him effortlessly wearing Proenza
Schoeler, Lanvin, Chanel, a Loewe bag and JW Anderson together. He's also one of the biggest bloggers/socialites in the industry.
Christina Paik, 21, Photographer
Let's break the ice and get comfortable with this legend in the making. She's on the verge becoming a household name having worked with major brands like Stussy, Kith, OFF White and many more. Paik knows how to tell story through portrait photography (primarily women) and has a keen eye for detail when capturing her subjects. The New York-Perisian creator has created her identity with her work and it shows in her fashion statements.
Coco Baudelle, 22, Model / Actress
Here's the new topic of discussion. Should we call her Coco Baudelle or Coco Chanel? She Walks on Pearls literally. If our calculations are correct, the answer lies within her magnificent proportions and artistic flare. A politically correct answer would be: No, her proportions scream Diane Von Furstenburg (DVF), but the first one sounds better. The Montreal native has outstanding taste and knows what's best for her in any style situation.
Daver Campbell, 29, Stylist
Blessings to this fashion, spirituality, and lifestyle connoisseur, who is an expert at "showing face," then disappearing before your eyes in the Uber black SUV. Here's the TUPAC of fashion. If you have made it up to this point, bravo to you. Mr. Campbell has a roster of clients that run deeper than the abyss. Some pins from his style kit may have touched your favorite movie star or pop star within the past 48 hours. You may notice there's only one image representing this icon, however, there is a reason behind these tactics. Shall I disclose the dollar amount (in Euros) on one article of clothing he's wearing in the image? Hmm.. I'll leave it to the Hypebeast out there.

Follow his journey at www.Daver-Campbell.com
Durimel Twins, 22, Photographers
This chemical compound consist of two brilliant individuals: Jalan and Jabril. You may remember them from American Apparel ads or on Union LA blog page. Their style choices are cohesive and a bit unorthodox. If you're speaking about aesthetics and originality, put these two brothers at the top of the category. The Durimel twins have collaboratively meshed their Parisian roots into the Los Angeles fashion scene through photography and art direction.
Frank Christon 30, Stylist / Creative Director
This Oklahoma City native is no rookie when it comes to executing and delivering masterpieces. No one has been able to put a label on this guy or put him in a box for years. Many may "know" him as a stylist, however, his tags extend and translate to: consultant, trendsetter, conceptual artist, creative director and producer. His "mind is gone" beyond the fifth element and he's a pure visionary. The man behind the mask has creative directed and produced several editorial campaigns and has worked with Kevin Durant, Russell Westbrook, Jeffrey Sebelia and many more. If want the recipe or antidote from this guy, head over to www.recipestyling.com
Guillermo Andrade, 27, Owner of 424 on Fairfax
If you know who this guy is, then you know why he is in this index. For those who don't, he's theowner of 424 on Fairfax (one of the coolest, fashion forward boutique store in Los Angeles period). Just like his style choices, he takes pride in his store, and pays close attention to detail. He's not the type to play by the rules. His color palette is clear and minimalistic: Very similar to the installations in his store. You see the vision?
Ian Connor, 22, Influencer / Stylist
Bow your heads again guys. The King of the Youth is posted on the corner smoking a pack of Camel Crush cigarettes. We've all pondered on how to comprehend Connor's actions, but his finessing powers are very swift and agile. His Midas touch has allowed him to become an Internet sensation, transform/collab with brands, style Wiz Khalifa, crash Yeezy Season 1, and gain a whopping 300,000 followers via Instagram from being himself. Yet, people still ask "What does he do?" But in reality, it's not okay to question what Dad does. Just know he's the closest thing to Chris Angels that we will ever receive in our lifetime. The real question is, what's next for the young assassin?
James Goldstein, timeless, NBA Superfan
If you're a pap, chances are you've snapped a photo, or two, of this guy court side at the Lakers game. Yep, he's the man sitting next to Lou Adler and Jack Nicholson. In my opinion, he'sa futuristic version of Indian Jones, Karl Lagerfeld and Slayer mixed together. He also owns one of the coolest homes in Los Angeles (Sheats Goldstein Residence).
Kali Uchis, 22, Singer
Okay let's take a moment of silence before we dive into Kali Uchis... Perfect. By this time, you may have already scrolled through her slideshow a few times and felt some type of emotion. Subconsciously, you may have stamped her as being one of the greatest of all time without knowing much about her. The hall of fame boards need to make room now for this Columbian singer/songwriter. Her style is primarily vintage. It exudes a 50's flare with a mix of modern day essentials. With the likes of Tyler the Creator, Kali will be one of the biggest musicians of the millennial generation.
Kylie Jenner, 18, Reality TV Star
Yes guys, it has been solidified that Kylie Jenner is one of the most fashionable girls in theKardashian arena. Her taste level rises higher the older she gets. Many people compare her to Kim Kardashian, but her mixing techniques are little bit wavier. Let the slideshow speak for itself. Kylie has the juice now.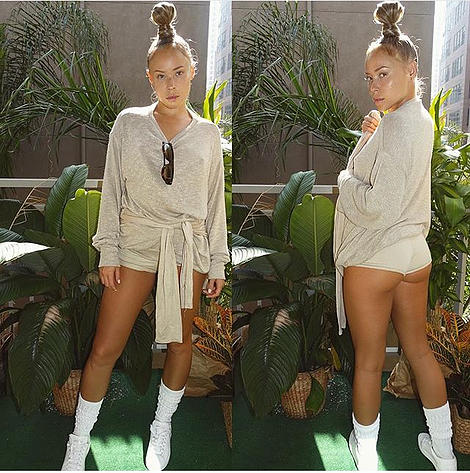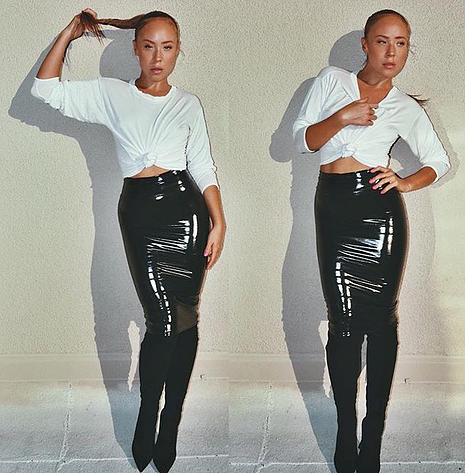 Laina Rauma, "I dont live by age, I live by energy", Fashion Designer
Yeah that's right, the Canadian designer who sells her panties for money is engraved heavily in this list. Here's why: Because she's hot. Secondly, because she has gained a cult-like following amongst the world quicker than a Juki sewing machine. Her designs has graced the backs of Niykee Heaton, Amber Rose, Kylie Jenner and here is the best one, herself. The Laina Rauma Internet personality is an entity by itself. Her images translate to dollar signs with the click of a button instantly. On the other hand, her style selects range from Chanel, Celine, Saint Laurent, Chloe, Fendi, Vintage Versace, and Alexander Wang on the daily basis. That's all. *Miranda Priestly voice
Luka Sabbat, 18, Model, Trendsetter
The new "It Boy" title fits him perfectly. Luka is just shy of 18 and he has already gained a major fanbase over a short period of time. His portfolio is pretty green with the likes and features of Vogue, I-D Magazine, Off White, Stussy, Hood By Air and lots more. We're looking at a new Lenny Kravits (minus the music) in the making. The Parisian-New York trendsetter has taking the industry by storm and continues to shutdown the streets of Soho daily.
Sham Maurice, 18, Trendsetter
This young gunner has silently become one of the best dressed kids of the millennial generation. He's great friends with Kylie Jenner and their styles compliment each other like yellow and blue on the color chart. He typically wears Fear of God, HBA, Supreme, Off White, distressed crop tops and more shit that you can't afford. Go off young man.

 
Theophilus London, 28, Rap Artist
If Rick James was still alive, he would be extremely proud of the Vibe master. Theo's style is equivalent to the jumpman dunking from the free throw line in 88.' It's authentic and cannot be duplicated. London is extremely versatile in his approach to life. He is beyond the the term "rapper" hence his latest genre-bending, Alternative album Vibes (executive produced by Kanye West). Theo is still a raining champion when it comes to these countdowns. So when November 11th (Veterans Day) arrives, ladies you know to do
Young Thug, 23, Rap Artist
Thugger has been the most controversial fashion star thus far. Aside from wearing dresses, Young Thug has managed to swag his way up to the top of the totem pole. His recent Dazed and Confused/Vogue story shows what he's capable of. Don't underestimate his power or confuse him with anyone else, because no one can compare to this creative genius.
Ugo Mozie, 23, Stylist
Chief Ugo Mozie definitely leads the pack as being one of the most stylish individuals walking the earth. His look matches his name, which is very luxurious. You might catch him in Balmain and Saint Laurent on a casual evening. Mozie is under 25, but his work catalog increases day by day. He has worked with Beyoncé Knowles, Chris Brown, Justin Bieber, Travis Scott, Diddy and lots more. His work can also be seen in pop culture standard magazines like Elle, Nylon, Vibe, XXL, and Paper magazines.
Uzi, 22, Director, Pop Artist
Uzi (Gabe) represents something that has been missing in the style world for quite some time. He's not a Hypebeast nor does he care about brands. To be honest, he might be one of the best dressed characters playing on the Sims in real life. No one has ever mixed Ed Hardy, Truk Fit and Raf Simons to the glorious heights of Gabe. Unlock/cheat codes have not been disclosed to match his swag level. The VH God has carved his own lane, visually and sonically to the highest caliber possible. His collaborative palette is sleek having worked with some of the best including: Lil Debbie, Pretty Puke, Wiz Khalifa, Beats by Dre and other weirdos who understand the wave. Stay weird.
Vashtie, 34, Dj Curator, Creative Director
Listen, if you need someone to provide the wave for a party, a treatment written for a music video/film, or your brand revamped call this woman. We promise she will bring the celebrities with her in the process. DJ'ing provided the vehicle for her, but she is an all around Tastemaker. Vashtie has landed in the most stylish index for years now. She has been in the countdown with the likes of Kanye West, Rihanna, Justin Timberlake and many more.
Youth of Paris, 21, Trendsetter
Hypebeast of the year award goes to the individual here. You may have come across his blog (youthofparis.fr) or seen him scrolling through Paris Fashion week alongside the legendary Kanye West himself. He's generally draped in Rick Owens head to toe with Yeezy's to compliment his feet on the daily basis. Rick it's time to start giving this guy a check for his contributions
***BONUS***
Rihanna, 27, Pop Artist, Creative Director

This list is extremely efficient, but we couldn't leave you guys without one of the best in game. Some refer to her as Bad Gal, Fenti, or should I say anymore? Ladies and gentleman let's give a round of applause to the lovely Rihanna. When it comes to shutting things down, Rihanna can take the blame. Rihanna always delivers rather it's a Red Carpet event, Grammys, VMA Vogue cover, or fashion week. She has never failed to turn heads or make guys salivate at the mouth within seconds upon arrival. Here are some of Rih Rih's best looks over the years.